King James I: Shakespeare's Patron
From Shakespeare's patrons & other essays by Henry Brown. London: J. M. Dent & sons.
King James I was a great admirer of poetry and the drama from his earliest days, and later in life he appears chiefly to have regarded and favoured dramatic art. He had been tutored by the celebrated George Buchanan and had well profited by his instructions; he was one of Scotland's greatest poets, and had produced political and religious works, and also poems and dramas. Under this famous scholar he made great progress in learning. It has been usual to ridicule the weaknesses of this king, but he had his nobler qualities, that far outweighed his foibles and weakness. Lord Bacon thought highly of his judgment. Mr. D'Israeli gives the character of the King: "He was called a pedant, but," says he, "he was no more a pedant than the ablest of his contemporaries, nor abhorred the taste of tobacco, nor feared witches, more than they did: he was a great wit, a most acute disputant," &c.1
Queen Elizabeth, probably to gain the friendship on a particular occasion, sent in 1589 a select company of players to the Scotch capital, and they appear to have paid a previous visit to Scotland, as we find "The King at a sumptuous banquet prepared by the Earl of Arran at Direleton, after a Council held there; divers of the nobility and gentry passed the time right pleasantly with the play of Robin Hood."2
The names of only two of the players sent by the Queen are known, Fletcher and Martin; they were probably both managers of the company. Fletcher was the head, and he seems quickly to have won great favour with the King, and on his return to England suffered some ill-treatment for some service and for special favour he had received from the King. And we learn from the State papers under date March 22, 1595, Edinburgh, George Nicholson to Mr. Bowes — the English Ambassador, among other news, says that "The King heard that Fletcher, the player, was hanged, and told him and Roger Aston so, in merry words, not believing it, saying very pleasantly that if it were true he would hang them also."3
Roger Aston was a gentleman residing at the Scottish Court, a correspondent to Sir Robert Cecil of affairs at the Court of King James. Whatever was Fletcher's fault, he was soon in favour again with the English ministers.
In 1599, Fletcher and Martin were sent for by the King, and Elizabeth sent them with a company of comedians on a visit to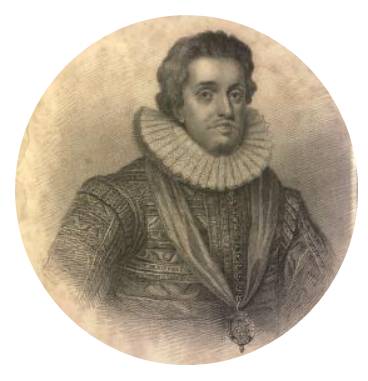 Edinburgh in November of that year. The King was greatly pleased with them, and they received from him warrant to act in public, and defended them against the Kirk Sessions, who were denouncing them, and who sought to silence them, but the King forbade and overruled this insult to the actors and the drama. The State papers say of this transaction, in a letter dated Edinburgh, November 12, 1599, George Nicholson to Sir Robert Cecil: "Performance of English players, Fletcher, Martin, and their Company, by the King's permission; enactment of the Town Sessions, and preaching of the ministers against them. The bellows blowers say that they are sent by England to sow dissension between the King and the Kirk." These papers also contain the King's full proclamation on the subject, the players were neither to suffer restraint nor censure.4 These players were held by some at the time to be vile fellows unworthy of any honourable person's regard, but the King would not hear of their being slandered, and gave them the highest possible honour. The company of English actors were in Scotland from Oct. 1599 to Dec. 1601, and Laurence Fletcher received the freedom of the city of Aberdeen on Oct, 22, 1601, as "Comedian to his Majesty."
It has long been supposed that Shakespeare visited Scotland at this time as one of the company of players; no proof, however, have come down to us, and it is not probable that as an occasional actor, as Shakespeare was, he should have been enrolled in the company. It would perhaps be nearer the mark to suppose that the poet between 1599 and 1600 paid a visit to Scotland; professional interests might induce him to take some of his latest MS. plays to be performed before the Scotch Court by the company of players to which he belonged. Shakespeare probably, like many in the Court of Elizabeth at this time, had his eye upon King James as the successor to the throne of England, and by this means may have prepared the way for his regard and favour. And the poet seems to have been absent from London late in 1599 to sometime in 1600, perhaps for about nine months; of this lengthened absence from the metropolis at this period there appears several indications, as also of his having visited Scotland. But three short years and "the spacious times of great Elizabeth" were over, and King James ascended the throne of England, and one of his first acts was to favour the drama. The good estate and position of the players were at once regarded; Laurence Fletcher, William Shakespeare, Richard Burbage, and others, on May 17, 1603, but a few days after the King's arrival in London, by letters patent under the great seal, were granted a licence to perform in London at the Globe theatre, and in the provinces at town-halls, and other suitable buildings. The company were now styled the King's players.
The far-seeing poet doubtless quickly added to his praise of Elizabeth the vista of newly and more widely extending glories of the reign of her successor, and in King Henry VIII, Act V., Sc.iv., he appends to his sketch of Elizabeth's reign, when paying that noble tribute to her life and death which we have noticed, and in reference to the blessed times of peace and prosperity enjoyed in her reign, he quickly foresaw the like happiness would be extended onward in the reign of King James I. He says of the new King:
"Nor shall this peace sleep with her: but as when
The bird of wonder dies, the maiden phoenix,
Her ashes new-create another heir,
As great in admiration as herself;
So shall she leave her blessedness to one,
When heaven shall call her from this cloud of darkness,
Who from the sacred ashes of her honour
Shall star-like rise, as great in fame as she was,
And so stand fix'd: peace, plenty, love, truth, terror,
That were the servants to this chosen infant.
Shall then be his, and like a vine grow to him:
Wherever the bright sun of heaven shall shine,
His honour and the greatness of his name
Shall be, and make new nations: he shall flourish,
And, like a mountain cedar, reach his branches
To all the plains about him: — our children's children
Shall see this, and bless heaven."
Shakespeare would hardly allow this twofold eulogy of his royal patrons to be delegated to any other than his own golden pen. The present writer will endeavour in a separate work to conclusively prove that Shakespeare wrote the supposed Fletcherian portions of Henry VIII.

The King during his first regular progress through his new kingdom after leaving the city of Salisbury on August 26, 1603, was, with the royal party entertained on the 29th and 30th of the same month at Wilton, the noble seat of William Herbert, third Earl of Pembroke, and on the 6th October the King and Queen were again at Wilton, and at this noble mansion they stayed several weeks. And on the 2nd December the King and Court were again at the seat of the Earl of Pembroke witnessing a theatrical performance by the company of players to which Shakespeare belonged, and again during the Christmas holidays the same company gave several performances before the Royal party at Hampton Court.

The list of plays they performed has unhappily not been preserved. There is little doubt but that Shakespeare was with his company at Wilton on some of these highly important occasions, if not on all, and that the King first noticed the poet on this occasion, even if he had not already become acquainted with him in Scotland; and the famous "Amicable Letter" which on good authority, we are told, was written by the King to Shakespeare, may have been in reference to his desire to see a play written by him upon the subject of Macbeth. This play was produced we may well suppose upon receipt of the letter and in haste for a special Court performance. The King was proclaimed King of Great Britain and Ireland in 1604, and the play may well be assigned to the first year of his coronation. If not in Scotland, at Wilton and elsewhere the King was already acquainted with Shakespeare, and the position he held and the company to which he belonged. The new monarch it should be remembered was a descendant of Banquo; this the poet has kept in his mind's eye —
"Some I see
That two-fold balls and treble sceptres carry."
Macbeth has the appearance of a bold, impromptu, hastily conceived sketch, emanating from the poet's brain in fiery flashes; the entire background and scenery is as lurid as the boldest sketches of Salvator Rosa, the figures are dashed in as bold as from the pencil of Rubens, and the ancient lieges of Scotia's land and the witches and ghosts pass before us like the titanic weird figures of Blake or Fuseli; and as the poet conceived it so he left it — a splendid sketch, but not a full and completely finished work.

A great change had come over the country, "the old order passeth away and giveth place unto the new." It was like a new world, if we glance back to 1567, when Queen Elizabeth gave order to the Bishop of London to find how many Scotsmen were in the metropolis, and we are told by Dr. Robertson there were but fifty-eight — now they came in streams following the King. This evoked much banter and sarcasm amongst the wits, dramatists, and actors of the day, several of them openly showing their dislike by satirizing the King, his Court, and countrymen; they failed to see the benefit that would arise from the union of the kingdoms. Shakespeare appears most fully and clearly to have seen it, and heralded the advent, as we have seen, by a full tribute of gratulation and praise.

That King James would be very likely to suggest the play of Macbeth is highly possible. George Buchanan, who, as before observed, had been preceptor to the King in his "History of Scotland," published in Edinburgh in 1582, states in the 7th book that the history of Macbeth was well adapted for the stage, "Multa hie fabulose quidam nostrorum affingunt; sed quia theatris aut Milesies fabulis sunt aptiora quam historiae, ea omitto." And the King himself had written his famous work, "Demonology," in 1597, relating to witchcraft and demoniacal possessions. Viewed in this light the poet had several objects in view in producing his Macbeth at this juncture, and moulding it, though roughly, yet in weighty and attractive metal a masterpiece of skill and power.

In the play Measure for Measure, written in 1604, a passage appears to refer to the proclamation of the Scottish King on his accession to the throne of England, forbidding the populace to assemble to meet him on his entry to his new kingdom, a proceeding on the part of the people both of Scotland and of England of which he soon grew weary, and told the people how greatly he disapproved of it. The poet notes the mood of the King —
"I love the people,
But do not like to stage me to their eyes.
Though it do well, I do not relish well
Their loud applause and aves vehement;
Nor do I think the man of safe discretion,
That does affect it." — Act I., Sc. i.
This comedy was acted before the Court at Whitehall on December 26, 1604. These lines would be at once recognised as aptly alluding to the extreme aversion of the King, long well known alike in regard to his Scotch subjects, as also lately proclaimed to his new people.

Some lines attributed to Shakespeare on King James have been handed down in old MS. collections as early as the time of Charles I, but it does not seem to be known upon what occasion they first appeared; they have always, however, been assigned to our poet in every collection in which they are preserved. Their first appearance in print we now find was under a very rare engraved portrait of King James I, published about the year 1610, The various MS. style them alike as —
SHAKESPEARE ON THE KING
"Crownes have their Compasse length of dayes their date
Triumphs their Tombes, felcitie her fate
Of more then earth can earth make none partaker,
But knowledge makes the King most like his maker."
The portrait was published by the King's printer; the lines may be accredited to our poet for their solemnity and dignity of thought.

It is not a little remarkable that this King was also in close connection from this time onward to the last with both of Shakespeare's patrons; the special honours the King at once bestowed upon the Earl of Southampton, after granting his immediate release from imprisonment in the Tower, and the various other signal favours granted later in life, both to him and to William Earl of Pembroke, reveal the fact that he at once regarded Southampton with a favourable eye, and at the same time exhibited a devoted regard for Pembroke, whom he also favoured highly but with a more constant favour and more attached and friendly regard, as he ever after retained the latter in office or at the Court in what appears to have been a bond of most sympathetic friendship. He was evidently attracted at once by the merits of both these lords, and in every way he could, expressed his admiration for them by conferring honours upon them upon several important occasions. His love for Pembroke, however, was far more constant and uniform, but he retained it would appear to the last also a regard, if not adoration, for Southampton; Pembroke, however, was his assured friend, confidant, and counsellor.

King James remained an admirer of the drama all his life, and on many occasions witnessed the plays of Shakespeare at various performances at Court, and his plays doubtless added joy and brightness to the festivities of many a passing hour; and the Court, upon our poet's retirement to his native town, missed the great luminary amongst men, though they had to abide the fate of the hour; the poet doubtless needed rest and peace, and the pleasurable and constant circle of his family and friends. However that may be, we find that on December 31, 1614, Mr. Chamberlain, in a letter to Sir Dudley Carleton, says —
"We have Plays at Court every night, — wherein they shew great patience, being for the most part such poor stuff that, instead of delight, they send the auditory away with discontent. Indeed our Poets' brains and inventions are grown very dry, insomuch that of five new Plays there is not one that pleases, and therefore they are driven to furbish over their old; which stand them in best stead and bring them most profit."
Such news as this was no doubt transmitted to Shakespeare in his affluent retirement amidst his townsmen in his quiet retreat at New Place. He may have laughed and given them over to Ben Jonson, and the rest of his fellow dramatic wits, but he had ceased producing more great works; he had poured forth his best of sparkhng wit and wisdom, the most joyous humour, the sweetest and noblest verse, and the profoundest philosophy, and now he finally rests in the haven of domestic peace in true felicity and perfect happiness, and if ever man deserved this consummation it was William Shakespeare. We do not view him as a hale, hearty, strong man, but as a good and worthy man. And we may gather from the dramatic writings of the poet, and from his other various poems and sonnets, that he would not fail to make due preparation for the higher as for the present life; and this is especially revealed in that noble CXLVI sonnet, as well as in several others, and finally in the opening declaration of his will it is fully, solemnly, and emphatically expressed in these his last recorded words.

The London play-goers nor the Court of King James knew not fully the great light that was passing away; the poet's patron, the Earl of Pembroke, appears to have seen that light clearest and followed it closest, but its full glory was not possible to discover till after the publication of the first folio, seven years after Shakespeare's death. Yet, as we have seen, King James had welcomed the poet and beheld with pleasure his plays, and Ben Jonson in his poetical tribute to Shakespeare, prefixed to the folio of 1623, speaks of the delight Elizabeth and James took in witnessing the plays of Shakespeare —
"Those flights upon the banks of Thames
That so did take Eliza and our James."
Footnotes
1: "Calamities of Authors," vol. ii p. 245.
2: Reg. Com. Scot., May 5, 1585.
3: Cal. St. Pap., Scottish Series, by M. J. T., vol. 2, p. 676.
4: Cal. St. Pap., Scottish Series, vol. 2, pp. 777-8.
How to cite this article:

Brown, Henry. Shakespeare's patrons & other essays. London: J. M. Dent & sons, 1912. Shakespeare Online. 20 Aug. 2009. (date when you accessed the information) < http://www.shakespeare-online.com/biography/patronjames.html >.
_________

Related Articles

The King's Men


King James and the Gunpowder Plot


Did Shakespeare write Macbeth for James I?


Catering to the Tastes of James I


Shakespeare, James, and the Witches


Witchcraft in Shakespeare's England



Queen Elizabeth: Shakespeare's First Patron


Entertaining Queen Elizabeth (bear-baiting)


Elizabeth I Demands Falstaff


Life in Stratford


Shakespeare's Audience in his Day


Going to a Play in Shakespeare's London


London's First Public Playhouse



Shakespeare's Boss


Shakespeare Hits the Big Time


Theatre Closures Due to Disease


Entertainment in Elizabethan England


Shocking Elizabethan Drama