William Kempe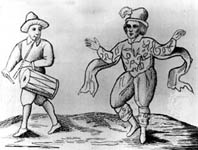 William Kempe was one of the most beloved clowns in the Elizabethan theatre. Records tell us that Kempe was an actor with Leicester's Men on a tour of the Netherlands and Denmark in 1585-86. By 1593 Kempe was a member of Strange's Men, and theatre-goers and fellow actors were beginning to recognize his comedic talent.
Thomas Nashe declared Kempe the successor to the great Elizabethan performer, Richard Tarlton. Kempe joined the Chamberlain's Men in 1594 and acted in many of Shakespeare's plays. He was the original portrayer of Dogberry in Much Ado About Nothing, Peter in Romeo and Juliet, and possibly Falstaff. He also likely played Lancelot Gobbo in The Merchant of Venice and Bottom in A Midsummer Night's Dream. However it appears that Kempe suddenly left the Chamberlain's Men in 1599. The reason for his departure is not documented, although many believe that he was asked to leave due to his chronic improvising, and that Shakespeare made reference to this in Hamlet:
And let those that play
your clowns speak no more than is
set down for them;
for there be of them that will themselves laugh, to
set on some quantity of barren spectators to laugh
too. (3.2.40-5)
Once Kempe left the troupe Shakespeare's comic characters changed dramatically, indicating that earlier parts were written to fit Kempe's unique style. Examining Shakespeare's changes provides us with even more information about Kempe's stage presence. "He was a big man who specialized in Plebian clowns who spoke in earthly language...Kempe's characters have a tendency to confuse and mispronounce their words, and contemporary references to his dancing and ability to "make a scurvy face" suggest a physical brand of humour." (Boyce 335)

Now finished with Shakespeare's troupe and looking for another way to entertain the people of London, Kempe planned a wild publicity stunt. In 1600 he danced a morris dance from London to Norwich, almost 100 miles north. He wrote his own account of the event called Kempe's Nine Days Wonder, and the picture above is from the cover of the original copy. Kempe returned to acting in 1601 when he left England to tour Europe. When he arrived home in 1602 he joined Worcester's Men, but he disappears from the records shortly after. Some scholars conclude that he died from the 1603 plague in London - the year of one of the largest outbreaks of the disease during Shakespeare's life.


References
Adams, J.C. The Globe Playhouse: Its Design and Equipment. Barnes and Noble: New York, 1964.
Bentley, Gerald Eades. Shakespeare: A Biographical Handbook. Yale University Press: New Haven, 1968.
Berry, Herbert, ed. The First Public Playhouse. Queen's University Press: Montreal, 1979.
Boyce, Charles. Shakespeare A to Z. Facts on File: New York, 1990.
Rutter, Carol Chillington. Documents of the Rose Playhouse. Manchester University Press: Manchester, 1984.
Smith, G. C. Moore, Litt.D., ed. The Life of Henry V. Blackie & Son Limited: London, 1937.
How to cite this article:

Mabillard, Amanda. William Kempe. Shakespeare Online. 21 Nov. 2000. (date when you accessed the information) < http://www.shakespeare-online.com/biography/willkempe.html >.
Related Articles

Shakespeare's Audience in his Day


Going to a Play in Shakespeare's London


London's First Public Playhouse


Shakespeare's Boss



Shakespeare Hits the Big Time


Theatre Closures Due to Disease


Entertainment in Elizabethan England


Shocking Elizabethan Drama


The Greatest Actor of Shakespeare's Day


Edward Alleyn: Master of the Elizabethan Stage