Richard Burbage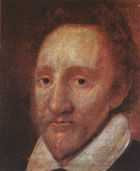 Richard Burbage is considered to be the first great actor of the English theatre. He was the son of James Burbage, the theatrical entrepreneur who built the Theatre in Shoreditch on the outskirts of London, and the brother of another famous actor of the day, Cuthbert Burbage.

Richard Burbage achieved success as performer by the age of twenty and during his career he appeared in plays by Jonson, Kyd, Beaumont and Fletcher, and John Webster. He also played many of the major Shakespearean characters, including Othello, Hamlet, Lear, and Richard III. "It is likely that Richard III was the most popular of all Shakespeare's plays with the Elizabethan public; it provided a superlative part for Burbage" (Rowse, 130).

Legend tells us that a woman fell in love with Burbage when she saw him play Richard III and begged him to come to her chambers that night under the name of King Richard. But Shakespeare overheard the proposition and, as a joke, left the theatre early to take Burbage's place. Shakespeare was "at his game ere Burbage came. Then, message being brought that Richard III was at the door, Shakespeare caused return to be made that William the Conqueror was before Richard III" (Rowse, 130). Early in his career Burbage probably would have been a member of both Lord Strange's Men and the Admiral's Men. Both companies performed at James Burbage's Theatre between 1590 and 1591. We do know that Burbage was a member of the Chamberlain's Men after 1594 and stayed with the group through its evolution into the King's Men in 1603. Although his last recorded performance was in 1610, he acted with the King's Men until his death in 1619.

In addition to acting, Richard Burbage was also an entrepreneur much like his father.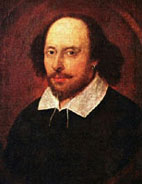 When James Burbage died in 1597 he left the Theatre to Richard and his brother. Together they disassembled the Theatre and built the Globe in 1599. The Burbages kept half the shares in the new theatre and the rest were assigned equally to Shakespeare and other members of the Chamberlain's Men.

James Burbage also left another theatre to Richard - the Blackfriars Theatre. Richard Burbage leased it to an acting company called the Children of the Chapel, but, after they could not make the payments, Burbage bought back the lease with his brother and four new partners from the King's Men - Shakespeare, Henry Condell, William Sly, and John Heminge.

Richard Burbage was also a wonderful painter. Some believe that the anonymous oil painting of Burbage seen above is actually a self-portrait, and he has often been credited with painting the Chandos portrait of Shakespeare, seen on the right. Burbage's skills as an artist were often in demand. With Shakespeare as his partner, providing the commemorative words, Burbage designed an impresa, or personal badge, for the Earl of Rutland (1578-1632). The badge was to be worn on the Earl's shield at a tournament on March 24, 1613 to honor James I. When Shakespeare died in 1616, he left his dear friend Burbage money to buy a mourning-ring in his memory.

Burbage died on March 9, 1619, and "the true sound of Shakespeare's lines, as he had conceived them [and] Burbage had interpreted them, was silenced forever" (Holmes, 203). Tributes to the great actor poured from the pens of good writers whose words he had made even better. The following excerpt from a funeral elegy is the most famous because of its reference to Burbage playing Shakespeare's characters, most notably his Hamlet scant of breath:
A Funeral Elegy
On the Death of the Famous Actor, Richard Burbage,

Some skilful limner help me! If not so,
Some sad tragedian to express my woe!
Alas! he's gone, that could the best, both limn
And act my grief; and 'tis for only him
That I invoke this strange assistance to it,
And on the point invoke himself to do it;
For none but Tully Tully's praise can tell,
And no man act a grief, or act so well.
He's gone, and with him what a world are dead,
Friends, every one, and what a blank instead!
Take him for all in all, he was a man
Not to be match'd, and no age ever can.
No more young Hamlet, though but scant of breath,
Shall cry "Revenge!" for his dear father's death.
Poor Romeo never more shall tears beget
For Juliet's love and cruel Capulet:
Harry shall not be seen as king or prince,
They died with thee, dear Dick, [and not long since]
Not to revive again....
Tyrant Macbeth, with unwash'd, bloody hand,
We vainly now may hope to understand.
Brutus and Marcius henceforth must be dumb,
For ne'er thy like upon the stage shall come,
To charm the faculty of ears and eyes,
Unless we could command the dead to rise.
Vindex is gone, and what a loss was he!
Frankford, Brachiano, and Malevole.
Heart-broke Philaster, and Amintas too,
Are lost for ever; with the red-hair' d Jew,
Which sought the bankrupt merchant's pound of flesh,
By woman-lawyer caught in his own mesh.
What a wide world was in that little space,
Thyself a world the Globe thy fittest place!
Thy stature small, but every thought and mood
Might throughly from thy face be understood;
And his whole action he could change with ease
From ancient Lear to youthful Pericles.
But let me not forget one chiefest part,
Wherein, beyond the rest, he mov'd the heart;
The grieved Moor, made jealous by a slave,
Who sent his wife to fill a timeless grave,
Then slew himself upon the bloody bed.
All these and many more are with him dead.
Hereafter must our Poets cease to write.
Since thou art gone, dear Dick, a tragic night
Will wrap our black-hung stage: he made a Poet,
And those who yet remain full surely know it,
For, having Burbage to give forth each line,
It fill'd their brain with fury more divine.
Oft have I seen him leap into the grave,
Suiting the person, which he seem'd to have,
Of a mad lover, with so true an eye,
That there I would have sworn he meant to die.
....And now, dear Earth, that must enshrine that dust,
By heaven now committed to thy trust,
Keep it as precious as the richest mine
That lies entomb'd in that rich womb of thine,
That after times may know that much lov'd mould
From other dust, and cherish it as gold:
On it be laid some soft but lasting stone,
With this short epitaph endors'd thereon,
That every eye may read, and reading, weep
'Tis England's Roscius, Burbage, that I Keep.
London's grief over Richard Burbage's death was so profound that another unnamed author wrote a few lines mocking the excess, using Shakespeare's own opening lines from Henry VI:
Hung be the heavens with black, yield day to night!
Comets importing change shoot through the sky:
Scourge the foul fates that thus afflict our sight!
Burbage, the player, has vouchsafed to die!
Therefore, in London is not one eye dry:
The deaths of men who act our Queens and Kings,
Are now more mourn'd than are the real things.

The Queen is dead! to him now what are Queens?
Queens of the theatre are much more worth,
Drawn to the playhouse by the bawdy scenes,
To revel in the foulness they call mirth.
Dick Burbage was their mortal god on earth:
When he expires, lo! all lament the man;
But where's the grief should follow good Queen Ann?
The shock and sadness over Burbage's passing may be the key to our understanding of why so little was written on Shakespeare's death just three years earlier - a theory put so eloquently by C. C. Stopes in Burbage and Shakespeare's Stage:
Shakespeare was out of it all now - away in the quiet Stratford Church he lay. And Richard Burbage, having a son at the end of the year, in memory of him called the child by the name of '"William." It has often been noted by enemies that the world did not seem very much distressed about the death of Shakespeare. No one seems to have grasped the true reason. Shakespeare had retired from the stage, as an actor, some time before he died. His personal appearances in London were rare.

And when the end came, and the creation of plays from that source ceased, we have every reason to believe that there was an increase in the number of the performances of his plays. For in the characters Shakespeare wrote for him Richard Burbage attained his greatest glory. Men did not realize that Shakespeare was dead while Burbage lived. His power of impersonation was so great that he became his characters....We have only to turn to the poems referring to Richard Burbage to realize that it was in the death of Burbage that to the world our Shakespeare died (115).
How to cite this article:
Mabillard, Amanda. Richard Burbage. Shakespeare Online. 21 Nov. 2000. (date when you accessed the information) < http://www.shakespeare-online.com/biography/richardburbage.html >.

References
Collier, J Payne. Memoirs Of The Principal Actors In The Plays Of Shakespeare. London: For The Shakespeare Society, 1846.
Holmes, Martin Rivington. Shakespeare and Burbage . London : Phillimore, 1978.
Lee, Sir Sidney. A Life of William Shakespeare. New York: Dover Publications, 1968.
Rowse, A. L. Shakespeare the Man. New York: St. Martin's Press, 1988.
Stopes, C.C. Burbage and Shakespeare's Stage. London: A. Moring, Ltd., 1913.

____

Related Articles



Shakespeare's Audience in his Day

Shakespeare's Contemporaries: Top Five Most Fascinating

Going to a Play in Shakespeare's London

London's First Public Playhouse

Shakespeare's Boss

Shakespeare Hits the Big Time

Theatre Closures Due to Disease

Entertainment in Elizabethan England

Shocking Elizabethan Drama

Will Kempe: Shakespeare's Clown

Edward Alleyn: Master of the Elizabethan Stage

Daily Life in Shakespeare's London

What did Shakespeare drink?

What did Shakespeare look like?

Shakespeare's Language

Words Shakespeare Invented

Reasons Behind Shakespeare's Influence

Shakespeare's Blank Verse

Play Chronology

Shakespeare Characters A to Z

Pronouncing Shakespearean Names

Shakespeare's Metaphors and Similes

How many plays did Shakespeare write?

Shakespeare Quotations (by Play and Theme)

The First Folio