Shakespeare's Characters: A to Z
Here you will find a comprehensive list of every Shakespearean character and the play in which he or she appears. Included is our exclusive spelled pronunciation guide, essential for actors and teachers, and an in-depth biography of many of Shakespeare's most popular and fascinating creations.

Be sure also to visit The Shakespeare Sisterhood, a stunning gallery of Shakespeare's female characters, complete with a discussion of their best (and sometimes worst) qualities.










___

Related Resources



Hamlet Character Guide

Macbeth Character Guide

King Lear Character Guide

Julius Caesar Character Guide

Romeo and Juliet Character Guide

Cymbeline Character Guide

Shakespeare Quotations (by Play and Theme)

Words Shakespeare Invented

Shakespeare's Impact on Other Writers

What Inspired Shakespeare?

Reasons Behind Shakespeare's Influence

Shakespeare's Language

Bloody will be thy end: Shakespeare Farewells

Hamlet Essays and Study Guide

Macbeth Essays and Study Guide

Othello Essays and Study Guide

Romeo and Juliet Essays and Study Guide

Julius Caesar Essays and Study Guide

King Lear Essays and Study Guide

How many plays did Shakespeare write?

Shakespeare on Marriage

The Greatest Love Poem in English

Top 10 Shakespeare Plays

Shakespeare's Metaphors and Similes

Shakespeare's Blank Verse
Did You Know?...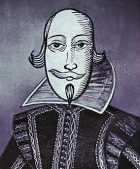 Ale (beer made with a top fermenting yeast) was the drink of choice in Shakespeare's day. Everyone from the poorest farmer to the Queen herself drank the brew made from malt, and a mini brewery was an essential part of every household. Shakespeare's own father was an official ale taster in Stratford – an important and respected job which involved monitoring the ingredients used by professional brewers and ensuring they sold their ale at Crown regulated prices. Read on...
____

Shakespeare acquired substantial wealth thanks to his acting and writing abilities, and his shares in London theatres. The going rate was £10 per play at the turn of the sixteenth century. So how much money did Shakespeare make? Read on...
____

Of all the records of performance handed down to us, none is more significant than the exhaustive diary of a doctor named Simon Forman, from which we obtain lengthy descriptions of early productions of four of Shakespeare's plays: Macbeth, The Winter's Tale, Cymbeline, and Richard II. Read on...
____

Twenty-four of Shakespeare's sonnets are addressed to a woman. We have little information about this woman, except for a description the poet gives of her over the course of the poems. Shakespeare describes her as 'a woman color'd ill', with black eyes and coarse black hair. Thus, she has come to be known as the "dark lady." Find out...
____

Known to the Elizabethans as ague, Malaria was a common malady spread by the mosquitoes in the marshy Thames. The swampy theatre district of Southwark was always at risk. King James I had it; so too did Shakespeare's friend, Michael Drayton. Read on...
____

Retired Sicilian professor Martino Iuvara claims that Shakespeare was, in fact, not English at all, but Italian. His conclusion is drawn from research carried out from 1925 to 1950 by two professors at Palermo University. Iuvara posits that Shakespeare was born not in Stratford in April 1564, as is commonly believed, but actually was born in Messina as Michelangelo Florio Crollalanza. Read on...