Notes on Shakespeare...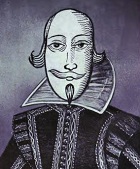 The famous Victorian era poet Algernon Charles Swinburne declared Cymbeline to be "the play of plays." "Here," he writes, "is depth enough with height enough of tragic beauty and passion, terror and love and pity, to approve the presence of the most tragic Master's hand... and subtlety enough of sweet and bitter truth to attest the passage of the mightiest and wisest scholar or teacher in the school of human spirit." (A Study of Shakespeare)
____

Director Michael Almereyda and Ethan Hawke are teaming up to bring us a modern-day film adaptation of Shakespeare's masterpiece, Cymbeline. Hawke will play the mischief-loving villain, Iachimo. Please click here to read more and view the trailer.






Shakespeare acquired substantial wealth thanks to his acting and writing abilities, and his shares in London theatres. The going rate was £10 per play at the turn of the sixteenth century. So how much money did Shakespeare make? Read on...
____

Known to the Elizabethans as ague, Malaria was a common malady spread by the mosquitoes in the marshy Thames. The swampy theatre district of Southwark was always at risk. King James I had it; so too did Shakespeare's friend, Michael Drayton. Read on...
____

Of all the records of performance handed down to us, none is more significant than the exhaustive diary of a doctor named Simon Forman, from which we obtain a lengthy description of an early production of Cymbeline. Read on...