Shakespeare Quotations on Love
Here is our collection of Shakespeare's most inspired and romantic passages on love and devotion, perfect for Valentine's Day or anytime you want to delight your loved one with some unparalleled passionate poetry.
___

My bounty is as boundless as the sea,
My love as deep; the more I give to thee,
The more I have, for both are infinite.
(Romeo and Juliet, 2.2)

Love is a smoke raised with the fume of sighs;
Being purged, a fire sparkling in lovers' eyes;
Being vex'd a sea nourish'd with lovers' tears:
What is it else? a madness most discreet,
A choking gall and a preserving sweet.
(Romeo and Juliet, 1.1)

This bud of love, by summer's ripening breath,
May prove a beauteous flower when next we meet.
(Romeo and Juliet, 2.2)

Hear my soul speak:
The very instant that I saw you, did
My heart fly to your service.
(The Tempest, 3.1)





Things base and vile, folding no quantity,
Love can transpose to form and dignity:
Love looks not with the eyes, but with the mind;
And therefore is wing'd Cupid painted blind:
Nor hath Love's mind of any judgement taste;
Wings and no eyes figure unheedy haste:
And therefore is Love said to be a child,
Because in choice he is so oft beguiled.
(A Midsummer Night's Dream, 1.1)

As love is full of unbefitting strains,
All wanton as a child, skipping and vain,
Form'd by the eye and therefore, like the eye,
Full of strange shapes, of habits and of forms,
Varying in subjects as the eye doth roll
To every varied object in his glance
(Love's Labour's Lost, 5.2)

So loving to my mother,
That he might not beteem the winds of heaven,
Visit her face' too roughly.
(Hamlet, 1.2)

If thou remember'st not the slightest folly
That ever love did make thee run into,
Thou hast not loved.
(As You Like It, 2.4)

Who ever loved that loved not at first sight?
(As You Like It, 3.5)

Let me not to the marriage of true minds
Admit impediments. Love is not love
Which alters when it alteration finds,
Or bends with the remover to remove:
O no! it is an ever-fixed mark
That looks on tempests and is never shaken;
It is the star to every wandering bark,
Whose worth's unknown, although his height be taken.
Love's not Time's fool, though rosy lips and cheeks
Within his bending sickle's compass come:
Love alters not with his brief hours and weeks,
But bears it out even to the edge of doom.
If this be error and upon me proved,
I never writ, nor no man ever loved.
(Sonnet 116)

Eternity was in our lips and eyes,
Bliss in our brows' bent; none our parts so poor
But was a race of heaven.
(Antony and Cleopatra, 1.3)

Doubt thou the stars are fire;
Doubt that the sun doth move;
Doubt truth to be a liar;
But never doubt I love.
(Hamlet, 2.2)

When Love speaks, the voice of all the gods
Makes heaven drowsy with the harmony.
(Love's Labour's Lost, 4.3)

Have I caught thee, my heavenly jewel? Why, now let
me die, for I have lived long enough.
(The Merry Wives of Windsor, 3.3)

Such is my love, to thee I so belong,
That for thy right myself will bear all wrong.
(Sonnet 88)

But love, first learned in a lady's eyes,
Lives not alone immured in the brain;
But, with the motion of all elements,
Courses as swift as thought in every power,
And gives to every power a double power,
Above their functions and their offices.
(Love's Labours Lost, 4.3)

See how she leans her cheek upon her hand.
O that I were a glove upon that hand,
That I might touch that cheek.
(Romeo and Juliet, 2.2)

One half of me is yours, the other half yours
Mine own, I would say; but if mine, then yours,
And so all yours.
(The Merchant of Venice, 3.2)

The sight of lovers feedeth those in love.
(As You Like It, 3.4)

I love thee so, that, maugre all thy pride,
Nor wit nor reason can my passion hide.
Do not extort thy reasons from this clause,
For that I woo, thou therefore hast no cause
But rather reason thus with reason fetter,
Love sought is good, but given unsought better.
(Twelfth Night, 3.1)

But love is blind, and lovers cannot see
The pretty follies that themselves commit;
For, if they could, Cupid himself would blush.
(The Merchant of Venice, 2.6)

Never durst poet touch a pen to write
Until his ink were temper'd with Love's sighs;
(Twelfth Night, 4.3)

This is the very ecstacy of love:
Whose violent property fore does itself,
And leads the will to desperate undertakings,
As oft as any passion under heaven,
That does afflict our natures.
(Hamlet, 2.1)

The prize of all too precious you.
(Sonnet 86)

Shall I compare thee to a summer's day?
Thou art more lovely and more temperate:
Rough winds do shake the darling buds of May,
And summer's lease hath all too short a date:
Sometime too hot the eye of heaven shines,
And often is his gold complexion dimm'd;
And every fair from fair sometime declines,
By chance or nature's changing course untrimm'd;
But thy eternal summer shall not fade
Nor lose possession of that fair thou owest;
Nor shall Death brag thou wander'st in his shade,
When in eternal lines to time thou growest:
So long as men can breathe or eyes can see,
So long lives this and this gives life to thee.
(Sonnet 18)

What made me love thee? let that persuade thee
there's something extraordinary in thee. I cannot: but I love thee; none
but thee; and thou deservest it.
(The Merry Wives of Windsor, 3.3)

For thy sweet love remember'd such wealth brings
That then I scorn to change my state with kings.
(Sonnet 29)

All days are nights to see till I see thee,
And nights bright days when dreams do show thee me.
(Sonnet 43)

A lean cheek, -- a blue eye, and sunken, -- an unquestionable spirit, -- a beard neglected:-- Then your hose should be ungartered, your bonnet unhanded, your sleeve unbuttoned, your shoe untied, and every thing about you demonstrating a careless desolation.
(As You Like It, 3.2)

But, mistress, know yourself: down on your knees,
And thank heaven, fasting, for a good man's love.
(As You Like It, 3.5)

Love is a spirit all compact of fire.
(Venus and Adonis, 151)

She never told her love,
But let concealment, like a worm i'th' bud,
Feed on her damask cheek. She pined in thought,
And with a green and yellow melancholy
She sat like Patience on a monument,
Smiling at grief. Was not this love indeed?
(Twelfth Night, 2.4)

He says, he loves my daughter;
I think so too; for never gaz'd the moon
Upon the water, as he'll stand and read,
As 'twere, my daughter's eyes: and, to be plain,
I think, there is not half a kiss to choose,
Who loves another best.
(The Winter's Tale, 4.3)

Love is merely a madness: and, I tell you, deserves as
as well a dark house and a whip, as madmen do: and the
reason why they are not so punished and cured, is, that
the lunacy is so ordinary, that the whippers are in love too.
(As You Like It, 3.2)


_______


Shakespeare's Treatment of Love

"The Shakesperean norm of love, thus understood, may be described somewhat as follows. Love is a passion, kindling heart, brain, and senses alike in natural and happy proportions; ardent but not sensual, tender but not sentimental, pure but not ascetic, moral but not puritanic, joyous but not frivolous, mirthful and witty but not cynical. His lovers look forward to marriage as a matter of course, and they neither anticipate its rights nor turn their affections elsewhere. They commonly love at first sight and once for all. Love-relations which do not contemplate marriage occur rarely and in subordination to other dramatic purposes." C.H. Herford. Read on...



_______
More to Explore

Introduction to Shakespeare's Sonnets

Shakespearean Sonnet Style

How to Analyze a Shakespearean Sonnet

The Rules of Shakespearean Sonnets

Shakespeare's Sonnets: Q & A

Theories Regarding the Sonnets

Are Shakespeare's Sonnets Autobiographical?

Petrarch's Influence on Shakespeare

Theme Organization in the Sonnets
Sonnets in the Spotlight

Sonnet 18 is the best known and most well-loved of all 154 sonnets. It is also one of the most straightforward in language and intent. The stability of love and its power to immortalize the poetry and the subject of that poetry is the theme.



_______



Sonnet 116 is about love in its most ideal form. It is praising the glories of lovers who have come to each other freely, and enter into a relationship based on trust and understanding. The first four lines reveal the poet's pleasure in love that is constant and strong, and will not "alter when it alteration finds." The following lines proclaim that true love is indeed an "ever-fix'd mark" which will survive any crisis



_______



While it is obvious that Sonnet 145 is lacking unity and symmetry, we can see a connection to Sonnet 144 in the imagery of heaven and hell. It is plausible that Shakespeare simply felt uninspired during its composition. Amongst those who are convinced the sonnet belongs to Shakespeare, some argue that it was written for Anne Hathaway and not the dark lady. If we analyze the poem with this hypothesis in mind, we could claim that line 13 contains a pun on his wife's name: "hate away."



_______

Shakespeare's Greatest Love Poem

Shakespeare and the Earl of Southampton

The Order of the Sonnets

The Date of the Sonnets

Who was Mr. W. H.?

Are all the Sonnets addressed to two Persons?

Who was The Rival Poet?

Shakespeare on Jealousy

Shakespeare on Lawyers

Shakespeare on Lust

Shakespeare on Marriage

Portraits of Shakespeare

Shakespeare's Contemporaries

Shakespeare's Sexuality

Worst Diseases in Shakespeare's London

Shakespeare on the Seasons

Shakespeare on Sleep
Did You Know?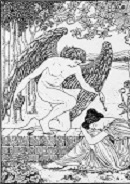 Three third-century Christian saints named Valentine are mentioned in the early church catalogue of martyrs under the date of February 14. However, the common customs of courtship and romance associated with Saint Valentine's Day are not linked to any of the saints. The traditions originated in fourteenth-century France and England with the belief that on February 14, birds begin to mate. Shakespeare mentions Saint Valentine's Day in A Midsummer Night's Dream (4.1.145) and in Hamlet, where he alludes to the superstition that if two single people meet on the morning of Saint Valentine's Day they will likely get married:
To-morrow is Saint Valentine's day,
All in the morning betime,
And I a maid at your window,
To be your Valentine.

_______