| | |
| --- | --- |
| Shall I compare thee to a summer's day? | Shall I compare you to a summer's day? |
| Thou art more lovely and more temperate: | You are more lovely and more constant: |
| Rough winds do shake the darling buds of May, | Rough winds shake the beloved buds of May |
| And summer's lease hath all too short a date: | And summer is far too short: |
| Sometime too hot the eye of heaven shines, | At times the sun is too hot, |
| And often is his gold complexion dimm'd; | Or often goes behind the clouds; |
| And every fair from fair sometime declines, | And everything beautiful sometime will lose its beauty, |
| By chance, or nature's changing course, untrimm'd; | By misfortune or by nature's planned out course. |
| But thy eternal summer shall not fade | But your youth shall not fade, |
| Nor lose possession of that fair thou ow'st; | Nor will you lose the beauty that you possess; |
| Nor shall Death brag thou wander'st in his shade, | Nor will death claim you for his own, |
| When in eternal lines to time thou grow'st; | Because in my eternal verse you will live forever. |
| So long as men can breathe or eyes can see, | So long as there are people on this earth, |
| So long lives this and this gives life to thee. | So long will this poem live on, making you immortal. |
Notes
temperate (1): i.e., evenly-tempered; not overcome by passion.

the eye of heaven (5): i.e., the sun.

every fair from fair sometime declines (7): i.e., the beauty (fair) of everything beautiful (fair) will fade (declines). Compare to Sonnet 116: "rosy lips and cheeks/Within his bending sickle's compass come."

nature's changing course (8): i.e., the natural changes age brings.





that fair thou ow'st (10): i.e., that beauty you possess.

in eternal lines...growest (12): The poet is using a grafting metaphor in this line. Grafting is a technique used to join parts from two plants with cords so that they grow as one. Thus the beloved becomes immortal, grafted to time with the poet's cords (his "eternal lines"). For commentary on whether this sonnet is really "one long exercise in self-glorification", please see below.



_____



Sonnet 18 is the best known and most well-loved of all 154 sonnets. It is also one of the most straightforward in language and intent. The stability of love and its power to immortalize the subject of the poet's verse is the theme.

The poet starts the praise of his dear friend without ostentation, but he slowly builds the image of his friend into that of a perfect being. His friend is first compared to summer in the octave, but, at the start of the third quatrain (9), he is summer, and thus, he has metamorphosed into the standard by which true beauty can and should be judged. The poet's only answer to such profound joy and beauty is to ensure that his friend be forever in human memory, saved from the oblivion that accompanies death. He achieves this through his verse, believing that, as history writes itself, his friend will become one with time. The final couplet reaffirms the poet's hope that as long as there is breath in mankind, his poetry too will live on, and ensure the immortality of his muse.

Interestingly, not everyone is willing to accept the role of Sonnet 18 as the ultimate English love poem. As James Boyd-White puts it:
What kind of love does 'this' in fact give to 'thee'? We know nothing of the beloved's form or height or hair or eyes or bearing, nothing of her character or mind, nothing of her at all, really. This 'love poem' is actually written not in praise of the beloved, as it seems, but in praise of itself. Death shall not brag, says the poet; the poet shall brag. This famous sonnet is on this view one long exercise in self-glorification, not a love poem at all; surely not suitable for earnest recitation at a wedding or anniversary party, or in a Valentine. (142)
Note that James Boyd-White refers to the beloved as "her", but it is almost universally accepted by scholars that the poet's love interest is a young man in sonnets 1-126.

Sonnets 18-25 are often discussed as a group, as they all focus on the poet's affection for his friend.

For more on how the sonnets are grouped, please see the general introduction to Shakespeare's sonnets.

For more on the theme of fading beauty, please see Sonnet 116.


How to cite this article:
Shakespeare, William. Sonnet 18. Ed. Amanda Mabillard. Shakespeare Online. 12 Nov. 2008. < http://www.shakespeare-online.com/sonnets/18detail.html >.

References
Boyd-White, James. The Desire for Meaning in Law and Literature. Current Legal Problems. Volume 53. Ed. M. Freeman. Oxford: Oxford UP, 2000.
Smith, Hallett. The Tension of the Lyre. San Marino: Huntington Library, 1981.

______

Even More...



Shakespeare in Old English?

Shakespeare's Influence on Other Writers

An Elizabethan Christmas

Clothing in Elizabethan England

Queen Elizabeth: Shakespeare's Patron

King James I of England: Shakespeare's Patron

The Earl of Southampton: Shakespeare's Patron

Going to a Play in Elizabethan London

Ben Jonson and the Decline of the Drama

Publishing in Elizabethan England

Shakespeare's Audience

Religion in Shakespeare's England

Alchemy and Astrology in Shakespeare's Day

Entertainment in Elizabethan England

London's First Public Playhouse

Shakespeare Hits the Big Time
More to Explore

Introduction to Shakespeare's Sonnets

Shakespearean Sonnet Style

How to Analyze a Shakespearean Sonnet

The Contents of the Sonnets in Brief

Shakespeare's Sonnets: Q & A

Theories Regarding the Sonnets

Are Shakespeare's Sonnets Autobiographical?

Shakespeare's Scandal in 1601

Petrarch's Influence on Shakespeare

Themes in Shakespeare's Sonnets

Shakespeare's Treatment of Love

Shakespeare's Most Famous Love Quotes

The Order of the Sonnets

The Date of the Sonnets

Shakespeare and the Earl of Southampton

Who was Mr. W. H.?

Are all the Sonnets addressed to two Persons?

Who was The Rival Poet?

_____



Did You Know? ...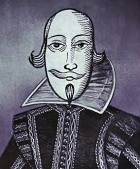 A sonnet is in verse form and has fourteen lines of iambic pentameter. Shakespeare's sonnets follow the pattern "abab cdcd efef gg", and Petrarch's sonnets follow the pattern "abba abba cdecde." All the lines in iambic pentameter have five feet, consisting of an unstressed syllable followed by a stressed one. For a more detailed look at iambic pentameter with examples, please click here.
____

The acclaimed late actor Philip Seymour Hoffman received three Tony Award nominations for his work in the theatre and in 2009 he starred as Iago in Peter Sellars' groundbreaking production of Othello, which featured a diverse cast, including the Latino actor John Ortiz as Othello.
____

Ale (beer made with a top fermenting yeast) was the drink of choice in Shakespeare's day. Everyone from the poorest farmer to the Queen herself drank the brew made from malt, and a mini brewery was an essential part of every household. Shakespeare's own father was an official ale taster in Stratford – an important and respected job which involved monitoring the ingredients used by professional brewers and ensuring they sold their ale at Crown regulated prices. Beer, however, eventually became more popular than ale. Read on...
____

Of all the records of performance handed down to us, none is more significant than the exhaustive diary of a doctor named Simon Forman, from which we obtain lengthy descriptions of early productions of four of Shakespeare's plays: Macbeth, The Winter's Tale, Cymbeline, and Richard II. Read on...
____

Twenty-four of Shakespeare's sonnets are addressed to a woman. We have little information about this woman, except for a description the poet gives of her over the course of the poems. Shakespeare describes her as 'a woman color'd ill', with black eyes and coarse black hair. Thus, she has come to be known as the "dark lady." Find out...
____

Known to the Elizabethans as ague, Malaria was a common malady spread by the mosquitoes in the marshy Thames. The swampy theatre district of Southwark was always at risk. King James I had it; so too did Shakespeare's friend, Michael Drayton. Read on...
____

Shakespeare acquired substantial wealth thanks to his acting and writing abilities, and his shares in London theatres. The going rate was £10 per play at the turn of the sixteenth century. So how much money did Shakespeare make? Read on...
____

Retired Sicilian professor Martino Iuvara claims that Shakespeare was, in fact, not English at all, but Italian. His conclusion is drawn from research carried out from 1925 to 1950 by two professors at Palermo University. Iuvara posits that Shakespeare was born not in Stratford in April 1564, as is commonly believed, but actually was born in Messina as Michelangelo Florio Crollalanza. His parents were not John Shakespeare and Mary Arden, but were Giovanni Florio, a doctor, and Guglielma Crollalanza, a Sicilian noblewoman. Read on...


_____



Shakespeare on Jealousy

Shakespeare on Lawyers

Shakespeare on Lust

Shakespeare on Marriage

Shakespeare on Sleep