Shakespeare's Siblings
William Shakespeare was indeed lucky to survive to adulthood in sixteenth-century England. Waves of the plague swept across the countryside, and pestilence ravaged Stratford during the hot summer months. Mary and John Shakespeare became parents for the first time in September of 1558, when their daughter Joan was born. Nothing is known of Joan Shakespeare except for the fact that she was baptized in Stratford on September 15, and succumbed to the plague shortly after.

Their second child, Margaret, was born in 1562 and was baptized on December 2. She died one year later. The Shakespeares' fourth child, Gilbert, was baptized on October 13, 1566, at Holy Trinity. It is likely that John Shakespeare named his second son after his friend and neighbor on Henley Street, Gilbert Bradley, a glover and the burgess of Stratford for a time. Records show that Gilbert Shakespeare survived the plague and reached adulthood, becoming a haberdasher, working in London as of 1597, and spending much of his time back in Stratford. In 1609 he appeared in Stratford court in connection with a lawsuit, but we know no details regarding the matter. Gilbert Shakespeare seems to have had a long and successful career as a tradesman, and he died a bachelor in Stratford on February 3, 1612.

In 1569, John and Mary Shakespeare gave birth to another girl, and named her after her first born sister, Joan. Joan Shakespeare accomplished the wondrous feat of living to be seventy-seven years old -- outliving William and all her other siblings by decades. Joan married William Hart the hatter and had four children but two of them died in childhood. Her son William Hart (1600-1639) followed in his famous uncle's footsteps and became an actor, performing with the King's Men in the mid-1630s. His most noted role was that of Falstaff.





William Hart never married, but the leading actor of the restoration period, Charles Hart, is believed to have been William Hart's illegitimate son and grandnephew to Shakespeare. Due to the fact that Shakespeare's children and his other siblings did not carry on the line past the seventeenth century, the descendants of Joan Shakespeare Hart possess the only genetic link to the great playwright. Joan Shakespeare lost her husband William a week before she lost her brother William in 1616, and she lived the rest of her life in Shakespeare's birthplace. Joan died in 1646, but her descendants stayed in Stratford until 1806.

Undoubtedly already euphoric that Joan had survived the precarious first few years of childhood, the Shakespeares' joy was heightened with the birth of their fourth daughter, Anne, in 1571, when William was seven years old. Unfortunately, tragedy befell the family yet again when Anne died at the age of eight. The sorrow felt by the Shakespeares' over the loss of Anne was profound, and even though they were burdened by numerous debts at the time of her death, they arranged an unusually elaborate funeral for their cherished daughter. Anne Shakespeare was buried on April 4, 1579.

In 1574, Mary and John Shakespeare had another boy and they named him Richard, probably after his paternal grandfather. Richard was baptized on March 11 of that year, and nothing else is known about him, except for the fact that he died, unmarried, and was buried on February 4, 1613 -- a year and a day after the death of Gilbert Shakespeare. Mary gave birth to one more child in 1580. They christened him on May 3 and named him Edmund, probably in honor of his uncle Edmund Lambert.

Edmund was eager to follow William into the acting profession, and when he was old enough he joined William in London to embark on a career as a "player." Edmund did not make a great reputation for himself as an actor, but, in all fairness, cruel fate, and not his poor acting abilities, was likely the reason. Edmund died in 1607 -- not yet thirty years old. He was buried in St. Saviour's Church, in Southwark, on December 31 of that year. His funeral was costly and magnificent, with tolling bells heard across the Thames. It is most likely that William planned the funeral for his younger brother because he would have been the only Shakespeare wealthy enough to afford such an expensive tribute to Edmund. In addition, records show that the funeral was held in the morning, and as Dennis Kay points out, funerals were usually held in the afternoon. It is probable that the morning funeral was arranged so that Shakespeare's fellow actors could attend the burial of Edmund.



How to cite this article:
Mabillard, Amanda. Shakespeare of Stratford: Shakespeare's Siblings. Shakespeare Online. 12 Sept. 2000. < http://www.shakespeare-online.com/biography/shakespearesiblings.html >.

References
Bentley, Gerald Eades. Shakespeare: A Biographical Handbook. New Haven: Yale UP, 1968.
Brooke, Tucker. Shakespeare of Stratford. New Haven: Yale UP, 1926.






______________

More Resources



Queen Elizabeth: Shakespeare's Patron

King James I of England: Shakespeare's Patron

The Earl of Southampton: Shakespeare's Patron

Going to a Play in Elizabethan London

The Shakespeare Sisterhood - A Gallery

Worst Diseases in Shakespeare's London

Preface to The First Folio

Shakespeare's Pathos - General Introduction

Shakespeare's Portrayal of Childhood

Shakespeare's Portrayal of Old Age

Shakespeare's Attention to Details

Shakespeare's Portrayals of Sleep

Publishing in Elizabethan England

What did Shakespeare drink?

Ben Jonson and the Decline of the Drama

Publishing in Elizabethan England

Alchemy and Astrology in Shakespeare's Day

Entertainment in Elizabethan England

London's First Public Playhouse

Shakespeare Hits the Big Time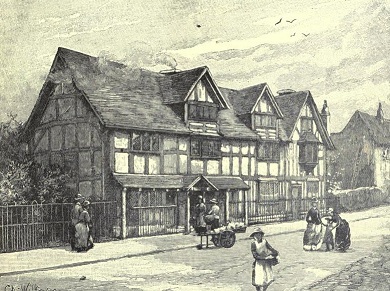 More to Explore

Shakespeare's Ancestry

Shakespeare's Parents

Shakespeare's Birth

Shakespeare's Education

Shakespeare as Actor

Shakespeare's Lost Years

Shakespeare's Marriage

Shakespeare's Children

Shakespeare's Death

Shakespeare's Burial
_____
Thoughts on Shakespeare ... "We shall never overestimate Shakespeare, because we cannot. Some men and things lie beyond the danger of hyperbole. No exaggeration is possible concerning them, seeing they transcend all dreams. Space cannot be conceived by the most luxuriant imagination, holding, as it does, all worlds, and capable of holding another universe besides, and with room to spare. Clearly, we can not overestimate space. Thought and vocabulary become bankrupt when they attempt this bewildering deed. Genius is as immeasurable as space. Shakespeare can not be measured." William A. Quayle. More quotations...
_____

Was Shakespeare Italian?

How Many Plays Did Shakespeare Write?

What Did Shakespeare Look Like?

Shakespeare's Religion

Shakespeare's Contemporaries: Top Five Greatest

Shakespeare's Audience: The Groundlings

Four Periods of Shakespeare's Life

Shakespeare's Language

Words Shakespeare Invented

Shakespeare's Reputation in Elizabethan England

Shakespeare at the Globe

Shakespeare's Impact on Other Writers

Quotations About William Shakespeare

Shakespeare's Boss: The Master of Revels

Daily Life in Shakespeare's London

Life in Stratford (structures and guilds)

Life in Stratford (trades, laws, furniture, hygiene)

Stratford School Days: What Did Shakespeare Read?

Games in Shakespeare's England [A-L]

Games in Shakespeare's England [M-Z]

An Elizabethan Christmas

Clothing in Elizabethan England