Shakespeare's Theatres
During his lifetime, Shakespeare's plays were performed on stages in private theatres, provincial theatres, and playhouses. They were acted out in the yards of bawdy inns and in the great halls of the London inns of court. Although the Globe is certainly the most well known of all the Renaissance stages associated with Shakespeare and is rightfully the primary focus of discussion, a brief introduction to some of the other Elizabethan theatres of the time provides a more complete picture of the world in which Shakespeare lived and worked.

We can classify Elizabethan theatres into two main groups -- those within the London district and those located throughout the English countryside. The theatres within the London district can be further classified as playhouses, inn yards, and private theatres. Please click on the links to find a wealth of theatre information.










Back in Time: A Trip to Shakespeare's Globe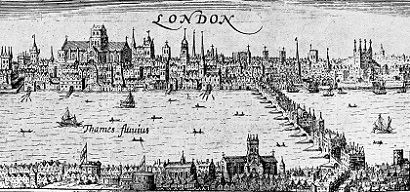 "Let us now pay a visit to the Globe, to us the most interesting of all the theatres, for it is here that Shakespeare's company acts, and here many of his plays are first seen on the stage. We cross the Thames by London Bridge with its lines of crowded booths and shops and throngs of bustling tradesmen; or if it is fine weather we take a small boat and are rowed over the river to the southern shores. Here on the Bankside, in the part of London now called Southwark, beyond the end of the bridge, and in the open fields near the Bear Garden, stands a roundish, three-story wooden building, so high for its size that it looks more like a clumsy, squatty tower than a theatre." Samuel Thurber. Read on...
Quote in Context

Thou seest we are not all alone unhappy,
This wide and universal theatre
Presents more woeful pageants than the scene
Wherein we play in.
(As You Like It, 2.7.138)

"The general meaning of this word is simply a kind of dumb-show procession. One of the earliest meanings of pageant referred to the stage, platform or scaffold on which such scenes were acted. It is a point of contention whether the pageant took its name from the structure or vice versa. In course of time, speaking parts were introduced, and then the word became to be applied indiscriminately to all kinds of plays, such as Mystery, Miracle, and Morality Plays, which had by the end of the sixteenth century become obsolete and antiquated." [Maurice Jonas]



____
How Many Plays?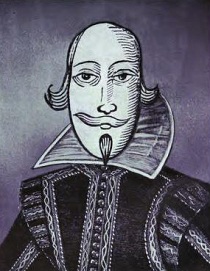 The general consensus is that Shakespeare wrote thirty-seven plays. However, no one can know for certain because of the inexact documentation at the time the plays were first being organized and published. If we include The Two Noble Kinsmen and two lost plays attributed to Shakespeare, Cardenio and Love's Labour's Won, then we could say he wrote, either alone or in collaboration, forty plays. Read on...



____
Bard Bites
Elizabethan playhouses were open to the public eye at every turn, and scenery could not be changed in between scenes because there was no curtain to drop. Read on...
____

Most early editors removed five lines from Romeo and Juliet for the sake of common decency. Which lines caused such scandal? Find out...
____

The Elizabethans tried to cure this frightening disease with the inhalation of vaporized mercury salts. Read on...


______