Playing Fast and Loose with Shakespeare's Name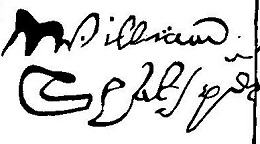 The Elizabethans cared as little for spelling as they did for the Spanish and nowhere is their comical disregard for simple consistency more evident than in their treatment of the surname Shakespeare. And how did Shakespeare spell his own name, anyway? Find out...
Richard Burbage: The Poet Maker

There are no records of any significant tributes to Shakespeare by his fellow actors and writers at the time of his death. The great eulogies praising the Sweet Swan of Avon appeared much later, in the First Folio of 1623. The situation was quite different for Shakespeare's friend and legendary actor, Richard Burbage. When he died in 1619 the nation mourned and eulogies poured forth from distraught writers whose characters would surely die with him. The shock and sadness over Burbage's passing may be the key to our understanding of why so little was written on Shakespeare's death just three years earlier. Read on...
Why Study Shakespeare?

Ben Jonson anticipated Shakespeare's dazzling future when he declared, "He was not of an age, but for all time!" in the preface to the First Folio. While most people know that Shakespeare is the most popular dramatist and poet the world has ever produced, students new to his work often wonder why this is so. The following are the top reasons why Shakespeare has stood the test of time.

School Features:
How to Analyze a Shakespearean Sonnet
Shakespearean Sonnet Basics
How to Study Shakespeare: Five steps to success reading a Shakespeare play
Shakespeare's Metaphors and Similes
Shakespeare's Influence on Other Artists
Shakespeare Study Guides and Essays
Top Questions About Shakespeare
The Fascinating Stage History of Othello

Many of Shakespeare's plays have fallen in and out of favour throughout the centuries, but Othello has remained one of his most popular. Productions of Othello have brought us the first woman on the English stage, the tragic final performance of the greatest actor of the 19th century and many other significant historical moments. Read on...
Shakespeare's Characters
So how do you pronounce Jaques, anyway? Here is our comprehensive list of every Shakespearean character and the play in which he or she appears. Included is our spelled pronunciation guide, essential for all drama students and teachers.
Shakespeare in Print: The Perils of Publishing in Elizabethan England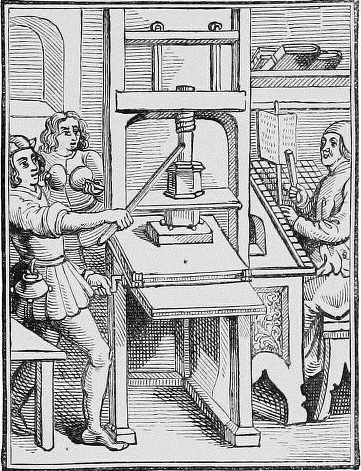 During Shakespeare's lifetime Elizabethan playwrights cared little about seeing their work in print. Only the rare drama was actually intended to be read as well as performed. Writers would usually sell their plays to the theatrical company which staged the performances, and if the company committed a particular play to paper, it would create only one copy - the official copy - in the form of a prompt-book. A prompt-book was a transcript of the play used during performances, cluttered with stage directions, instructions for sound effects, and the names of the actors. If a play was printed for a reading audience, it was often without the author's consent. Unprincipled publishers would steal the prompt-book, and sell copies for about fivepence apiece. Read on...
Shakespeare's Opening Lines: The Quiz

If music be the food of love, play on...
As you probably guessed, the famous line above opens Shakespeare's comedy Twelfth Night. But which Shakespearean drama opens with the line, "I wonder how the king escaped our hands?" Take our quiz and see how well you know your Shakespeare! To the quiz...
What Did Shakespeare Look Like?
The Stratford Bust, located on the wall of the chancel of Holy Trinity Church at Stratford-upon-Avon, is the oldest and, along with the Droeshout Portrait, most credible of all the known images of Shakespeare. But there are many representations of the Bard that have been handed down throughout the centuries, each with its own fascinating story to tell.


Entertainment in Elizabethan England
In Elizabethan England, during the times when plays were not completely outlawed, going to the theatre was the favourite activity of the masses. When disease ravaged London, actors would travel across the English countryside, entertaining farmers. There were also many days devoted to feasting, such as Mad Day, Midsummer Day, and Ascension Day (just to name a few), when people would drink and make merry. Dances were popular, whether you lived in London or in a small town, and so was getting together at the local pub for sing-alongs. Read on...
Julius Caesar Study Questions and Answers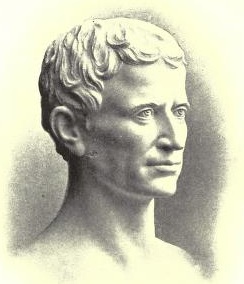 This selection of questions and detailed answers is part of our Julius Caesar study guide, which provides students with a general overview of the play, an introduction to its central characters, excerpts from Plutarch, a list of essay topics at both high school and college levels and much more. To the full study guide...
Shakespeare's Biography
Our detailed biography of Shakespeare covering his ancestry, parents, childhood in Stratford, siblings, marriage, children, career as an actor, contemporaries, and much more!
Shakespeare's Histories: The Quiz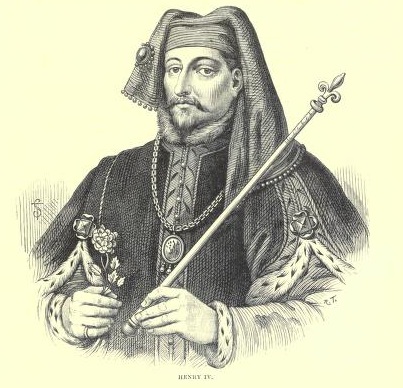 Many scholars believe that the history plays contain Shakespeare's own political philosophy regarding the role and nature of a truly great monarch. Others contend that "writing the philosophy of history was not Shakespeare's business." But all will agree that Shakespeare could dramatize English history like no other. The following quiz will test your knowledge of Shakespeare's histories. It is a challenge, but detailed answers are provided. Good luck! To the quiz...
Sonnet 73
An analysis of Shakespeare's inspired sonnet, hailed as one of the best in the Western canon. Included is a paraphrase of the poem in contemporary English.
The Macbeth Study Quiz

Macbeth is Shakespeare's shortest tragedy and one of his most popular plays. Although the story of Macbeth and his downfall may be familiar, sometimes recalling specific events and minor characters in the play is a challenge. Take our quiz and see how you measure up. Detailed answers are provided. Good luck! To the quiz...
Elizabethan Fashion Faux Pas
We have the Elizabethans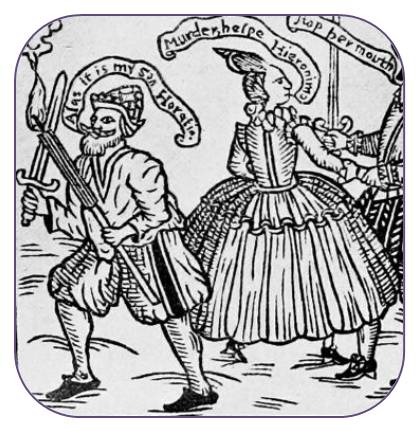 to thank for many of the jewels of Western literature. But they were also responsible for some of the worst fashion disasters the world has ever seen. With ruffs so large that ladies had to eat soup with a two foot spoon and men's hose so stuffed with bran that they popped and spilled onto the floor, the Elizabethans showed no fashion shame. Find out more about Clothing in Elizabethan England.
Shakespeare Reveals Your Fortune

It is the stars,
The stars above us, govern our conditions. (King Lear)
Have some fun while you let Shakespeare predict your future. Choose from nine questions on long life, love, prosperity and happiness and you will receive your answer from the wisdom of Shakespeare's timeless verse. Your future awaits...
Bard Bite
One of the most respected Shakespearean actors of all time, Edwin Booth, scribbled down on the study copy of his play that "of all the hateful rhyming exits this is the worst." So which lines gave this master thespian so much grief? Find out...
______


In the News
Roland Emmerich's movie Anonymous is sure to bring some new attention to the old authorship debate. So, did Shakespeare really write the works attributed to him? Here is my two cents...
___

A film adaptation of Shakespeare's tragedy Coriolanus is set for major release 20 January 2012 (USA), starring Ralph Fiennes as Coriolanus, Gerard Butler as Tullus Aufidius and Vanessa Redgrave as Volumnia. You can see the official UK trailer here.
___

The incomparable Charlie Rose has begun a new series called Why Shakespeare? The first episode focuses on Hamlet. You can find out more on the Charlie Rose website.
___


Word of the Week: fat
King Claudius. Our son shall win.
Queen Gertrude. He's fat, and scant of breath.
Hamlet, (5.2)
Gertrude's startling description of her son is not quite what we modern readers have in mind when envisioning the brooding young Prince Hamlet. But how can we explain the Queen's frank words? There is evidence to believe that Shakespeare had to work around the rotund stature of his good friend Richard Burbage, the first actor to play Hamlet. Read on...

More Hamlet Resources


Revenge in Hamlet

All About Yorick

Philological Exam Questions on Hamlet
Shakespeare's Christmas

In Elizabethan England, New Year's Day was the usual day to exchange presents. Queen Elizabeth loved to receive gifts from every member of her household, lords and servants alike. As William Davis mentions in Life in Elizabethan Days, "It was entirely proper to present the Queen with gifts of money outright. The bishops usually gave her £ 10 to £ 30 apiece each New Year's. Twenty goldpieces in a silken purse made an excellent impression. On New Year's Day, 1578, Elizabeth took in a total of £ 993, 13sh" (267). Please see An Elizabethan Christmas for a fascinating look at their customs, including the elaborate peacock pie.
Featured Quote
O, wither'd is the garland of the war,
The soldier's pole is fall'n: young boys and girls
Are level now with men; the odds is gone,
And there is nothing left remarkable
Beneath the visiting moon.
Antony and Cleopatra, (IV. xv. 64), Cleopatra, standing over the corpse of Mark Antony

Mark Antony is one of Shakespeare's most exciting characters. As M.W. MacCallum explains, "he has a gust for everything and for everything in the highest degree, for each several pleasure and its exact antithesis. In what does he not feel zest? Luxury, banqueting, drunkenness, appeal to him, so that Pompey prays they, "may keep his brain fuming" (ii. i. 24)." Read on...
______
Bardolatry
Shakespeare had the most comprehensive sense of humor of any of the world's great writers, a humor that was closely related to his sympathy. It has been said that he saved his tragedies from the fatal disease of absurdity, by inoculating them with his comic virus, and that his sense of humor kept him from ever becoming shrill. This faculty enabled him to detect incongruity, to keep from overstressing a situation, to enter into the personality of others, to recover quickly from "the slings and arrows of outrageous fortune," and in one of his last plays, The Tempest, to welcome the "brave young world" as if he would like, to play the game of life again. It was largely because of his humor that the tragedies and pain of life did not sour and subdue Shakespeare.
Reuben Post Halleck (1859-1936), Halleck's New English Literature
______