Quotations by Play
Tragedies

Antony and Cleopatra

Coriolanus

Hamlet

Julius Caesar

King Lear

Macbeth

Othello

Romeo and Juliet

Timon of Athens

Titus Andronicus
Histories

Henry IV, Part I


Henry IV, Part II


Henry V


Henry VI, Part I


Henry VI, Part II


Henry VI, Part III


Henry VIII


King John


Richard II


Richard III
Comedies

All's Well That Ends Well


As You Like It


The Comedy of Errors


Cymbeline


Love's Labours Lost


Measure for Measure


The Merry Wives of Windsor


The Merchant of Venice


A Midsummer Night's Dream


Much Ado About Nothing


Pericles, Prince of Tyre


The Taming of the Shrew


The Tempest


Troilus and Cressida


Twelfth Night


Two Gentlemen of Verona


The Winter's Tale


_______
Quotations by Theme

Shakespeare on Anger

Shakespeare on Envy

Shakespeare on Fate

Shakespeare on Fathers

Shakespeare on Flowers

Shakespeare on Friendship

Shakespeare on Gluttony

Shakespeare on Greed

Shakespeare on Horses

Shakespeare on Jealousy

Shakespeare on Lawyers

Shakespeare on Lust

Shakespeare on Marriage

Shakespeare's Metaphors


Shakespeare on Music


Shakespeare on Old Age


Shakespeare on Omens


Shakespeare on Poverty


Shakespeare on Pride



Shakespeare on Revenge


Shakespeare on the Seasons


Shakespeare on Sleep


Shakespeare on Sloth



Shakespeare's Songs


Shakespeare on Swans


Shakespeare Wedding Readings


Scary Shakespeare


Shakespearean Insults



Shakespeare Quotes on Cain and Abel


Quotations About Shakespeare


_______

On Shakespeare's Heroines

"Shakespeare reserves all his adoration for his heroines. His good women are angelic beings. His young heroines, Miranda, Cordelia, Imogen, Juliet, Perdita seem all to be spirits of the same heaven, and are like different aspects of the same woman rather than different women: they are the quintessence of romanticism. His heroines of mature years, as for instance, Hermione (in A Winter's Tale), and Queen Katherine, have the same quality. He cannot refrain from throwing a dash of connubial romance into Cleopatra."
John Jay Chapman, A Glance Toward Shakespeare

___

On Shakespeare's Genius

"It may be reckoned one of the rarest pieces of good-luck that ever fell to the share of a race, that (as was true of Shakespeare) its most rhythmic genius, its acutest intellect, its profoundest imagination, and its healthiest understanding should have been combined in one man, and that he should have arrived at the full development of his powers at the moment when the material in which he was to work — that wonderful composite called English, the best result of the confusion of tongues — was in its freshest perfection."
James Russell Lowell, Literary Essays, Vol. 3, 1890
In the Spotlight
Top 10 Quotes from Julius Caesar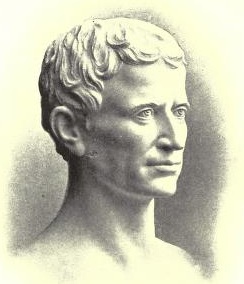 Cowards die many times before their deaths;
The valiant never taste of death but once.
Julius Caesar (2.2), Cæsar

Although there were earlier Elizabethan plays on the subject of Julius Caesar and his turbulent rule, Shakespeare's penetrating study of political life in ancient Rome is the only version to recount the demise of Brutus and the other conspirators. Here are the top ten quotations from Julius Caesar.



_______
Shakespeare on Lawyers and the Law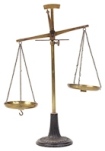 The first thing we do, let's kill all the lawyers.
Richard II (2.4), Captain

Shakespeare mentions law more than any other profession. Although we assume Shakespeare did not formally study law, we see from the many references in the plays that he had acquired a significant general knowledge of legal terminology. The legal jargon in Hamlet's speech in Act 5 is especially impressive. Read on...



_______
Shakespeare on Love

My bounty is as boundless as the sea,
My love as deep; the more I give to thee,
The more I have, for both are infinite.
Romeo and Juliet, 2.2

Here is our collection of Shakespeare's most inspired and romantic passages on love and devotion.

What Shakespeare Didn't Say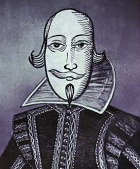 Granted, Shakespeare gave us more memorable quotes than any other writer, but often he gets credit for the clever quips of other greats, like Ben Franklin and John Milton. Here are some of the most common words of wisdom mistakenly attributed to the Bard.