SONNET 50
How heavy do I journey on the way,
When what I seek, my weary travel's end,
Doth teach that ease and that repose to say
'Thus far the miles are measured from thy friend!'
The beast that bears me, tired with my woe,
Plods dully on, to bear that weight in me,
As if by some instinct the wretch did know
His rider lov'd not speed, being made from thee:
The bloody spur cannot provoke him on
That sometimes anger thrusts into his hide,
Which heavily he answers with a groan,
More sharp to me than spurring to his side;
For that same groan doth put this in my mind,
My grief lies onward, and my joy behind.

NOTES

L. The poet finds the journey which he is taking tedious and wearisome. The ease and repose looked for at the end of each day's travel are lost in the thought that every stage marks so many miles farther away from his friend. The very beast on which he rides sympathises with his rider, as if by instinct, and plods heavily on, answering, when spurred, with a groan, a groan which reminds his rider of his own sorrow.

3. That ease and that repose to say, &c. A bold metaphor, to make the halting-station, or the rest obtained there, speak.

6. Dully. Q. "duly."









How to cite this article:
Shakespeare, William. Sonnets. Ed. Thomas Tyler. London: D. Nutt, 1890. Shakespeare Online. 10 Jan. 2014. < http://www.shakespeare-online.com/sonnets/50.html >.
______

Even More...



Stratford School Days: What Did Shakespeare Read?

Games in Shakespeare's England [A-L]

Games in Shakespeare's England [M-Z]

An Elizabethan Christmas

Clothing in Elizabethan England

Queen Elizabeth: Shakespeare's Patron

King James I of England: Shakespeare's Patron

The Earl of Southampton: Shakespeare's Patron

Going to a Play in Elizabethan London

Ben Jonson and the Decline of the Drama

Publishing in Elizabethan England

Shakespeare's Audience

Religion in Shakespeare's England

Alchemy and Astrology in Shakespeare's Day

Entertainment in Elizabethan England

London's First Public Playhouse

Shakespeare Hits the Big Time
More to Explore

Introduction to Shakespeare's Sonnets

Shakespearean Sonnet Style

How to Analyze a Shakespearean Sonnet

The Rules of Shakespearean Sonnets

The Contents of the Sonnets in Brief

Shakespeare's Sonnets: Q & A

Theories Regarding the Sonnets

Are Shakespeare's Sonnets Autobiographical?

Petrarch's Influence on Shakespeare

Theme Organization in the Sonnets

Shakespeare's Greatest Love Poem

Shakespeare and the Earl of Southampton

The Order of the Sonnets

The Date of the Sonnets

Who was Mr. W. H.?

Are all the Sonnets addressed to two Persons?

Who was The Rival Poet?

_____




What Shakespeare Didn't Say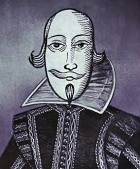 Granted, Shakespeare gave us more memorable quotes than any other writer, but often he gets credit for the clever quips of other greats, like Ben Franklin and John Milton. Here are some of the most common words of wisdom mistakenly attributed to the Bard.



_____



Shakespeare's Treatment of Love in the Plays

Shakespeare's Dramatic Use of Songs

Shakespeare Quotations on Love

Shakespeare Wedding Readings

Shakespeare on Sleep